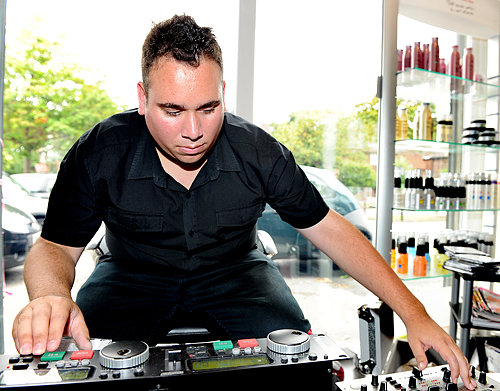 Olympic Heavyweight: Amazing Loser Alex McCann

There's nothing quite like a special event to make you realise, perhaps a little too late, that it's time to shape up. We're pretty vain beings, and no one wants their fat to be immortalised in pictures forever. This is exactly what happened to this week's Amazing Loser, who should have been riding high after being nominated to be an Olympic torchbearer during the 2012 Olympics, but who was instead fretting about whether he was too fat…

Name: Alex McCann

Age: 39

Height: 6ft

Location: Altrincham, Cheshire

Occupation: Social media marketer

Highest weight: 275lbs (19st 9lbs / 124.7kg)

Lowest weight: 161lbs (11st 7lbs / 73kg)

Weight lost: 114lbs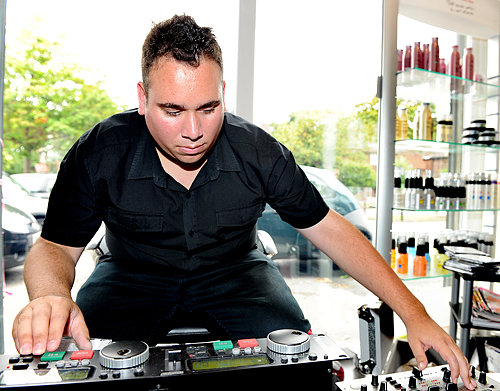 How did you get to the position where you needed to lose weight?
It was October 2011 when I knew something had to change. I'd been selected as an Olympic torchbearer for the London 2012 Olympics for my work in the community – my 1st thought was wow. My 2nd thought was: I can't fit into those white tracksuits.
It was a huge wake-up call. You had to let them know your size in the October for the following June and I knew the only way to fit in a large tracksuit was to rapidly lose weight from that point on. I didn't even know what I weighed until that moment. I stood on the scales and said I'm not getting over 20 stone – in fact, I'm losing weight.
What negative experiences did you have of being overweight?
If I'm being completely honest – none I felt at the time. It's only now that I'm active and love exercise that I realise how much of a struggle it was to run.  I'm a (pardon the pun) massive music fan and I could never buy band t-shirts at gigs as they were aimed at skinny indie guys rather than anyone out of shape. Apart from that, to be honest I was totally happy with my life in my twenties when I was at my heaviest.
What impact did the Olympics have on you?
I knew that being selected to be a torchbearer was one amazing moment and I wasn't prepared to let my weight ruin it. There was a lot of attention given to the local torchbearers so I knew my photos would be everywhere. It was a really special thing for me and I didn't want to be the fat man running along the road – you could say that it was pure vanity that was the kick up the ass I needed.
How did you do it?
I exercised virtually every day and counted the calories of what I ate each day.  It was really methodical – I knew what I had to do and I was really regimented in what I did. I was quite obsessed with the exercise and made sure I was exercising at least one hour a day.
Had you tried to lose weight before? If yes, what made this time different from the times before?
I'd had half-hearted attempts where I lost a little but ended up putting more back on, but nothing serious. It was all about my mindset back in 2012 when I successfully lost the weight. You have to be incredibly motivated and totally rewire your brain and change your habits.
What did you eat before you lost weight?
When I ate at home I generally ate quite healthy-ish, apart from doing that Northern working class thing where every evening meal has to have a round of bread with it! Bread for gravy. Bread for a buttie. Bread to wipe up the plate. Apart from that, I wouldn't say that my diet was that bad when I ate at home.
But it was going out that was the real problem. I worked in the music industry as a journalist/events organiser for many years so it often involved a few pints each night and often a chippy tea or pizza. It was a total lifestyle thing and you the time I was involved in the music industry from 1999-2014 there weren't all these health bars you see on every street corner nowadays. If you were eating out from a takeaway it was generally pretty unhealthy. When you're out 5 nights a week it all starts to add up.
What do you eat now?
Nowadays I'm just health health health. I'm very focused. I eat my 7-a-day most days, starting with fruit for breakfast. I'll have a sandwich for lunch and then a mixture of veg every evening taking on spinach, mushrooms, tomato, broccoli and loads more. I like to have a colourful plate. I've been vegetarian for 22 years and in the process of trying to go vegan where possible – I'd say I'm 90% vegan at home.
What was the most difficult thing about losing weight?
Maintaining my weight loss, definitely. In 2011 I was 19st 9lbs and in 2018 I'm 11st 9, but in the intervening period I've lost weight, put a little on, lost weight again. And now I'm at my lowest weight. But it's those periods like holidays and Christmas where I find it really hard to maintain my weight.
How did you overcome any difficulties?
At the moment I have a buffer zone of 4lbs, so I can put on weight but if I hit that extra 4lbs I have to lose it immediately. This allows me some flexibility at weekends, or on holiday/at Christmas which takes the pressure off a bit, but if I do get up to that I know I have to lose it straight away.
I always use this saying "Treat weight loss like a business plan": I had to lose weight until I got to my perfect weight. If you have a bad week, you make sure you smash it the next week.
Building my businesses is one thing I've always done well so I thought why not use the same mentality on my weight loss rather than trying to reinvent the wheel
How has life changed now that you've lost weight?
Well a few months ago I became a qualified fitness instructor! That would have never happened when I was overweight. I totally love going to the gym and running and one day the principal of the local college tweeted me asking If I knew anyone in the gym who would want to qualify as a fitness instructor. Within 5 minutes i'd talked to myself into doing it and I signed up the next day.
Going from being nearly 20 stone to a qualified fitness instructor ranks as one of my all-time greatest achievements.
Who supported you the most on your journey and how did they help?
I had to do the weight loss part all alone. As a bloke in my late 30s my friends are set in their ways – they're the sort to encourage you to have one more pint or one more takeaway or to get that extra packet of crisps. If I had listened to them I wouldn't have ever lost weight. My main motivation was business motivation books – the sort of books that set you in the right frame of mind to achieve anything you put your mind to.
And when it came to qualifying as a fitness instructor I can't thank everyone enough. The college, friends, family, people in the gym. Everyone got behind me and willed me to do it.
If you could go back to the person you were at your heaviest, what would you say to him?
Change your habits. It's all about your daily habits. You can have good ones or bad ones, and it's up to you, so choose wisely.
I'd say that for one reason: I don't believe fat people are lazy. I was the hardest working person I know when I was at my heaviest, so I still resent people when I hear them call fat people lazy because it's simply not true. It's simply about bad habits.
Now that you've lost weight, how are you planning on maintaining your weight loss?
I still use
MyFitnessPal
now that I've reached my target weight, so that won't go. I'm still running on a regular basis as it's always a challenge to run faster, to run longer distances, to do a charity challenge. I never thought I'd become a runner, but I love it.
Fitness is the new rock & roll! Liam Gallagher, when he's not abusing his brother on Twitter, goes out running each day too.
You're Prime Minister/President for the day – what law would you bring in to help combat the obesity problem?
Demand that all stores sell healthy food at affordable prices for those on the lowest incomes. It's expensive to buy fruit, it's expensive to buy vegetables, it's expensive to buy vegetarian or vegan options. I can buy a tube of Pringles for less than pot of fruit – it's ridiculous.
What three things do other fat men need to know about losing weight?
1. Calories in must be less than calories out – track it on an app like MyFitnessPal.
2. Watch what you eat and drink at weekends – 2 nights out at the weekend can ruin 5 days of good effort.
3. Get active – find something you enjoy as there's a sport or exercise for everyone.