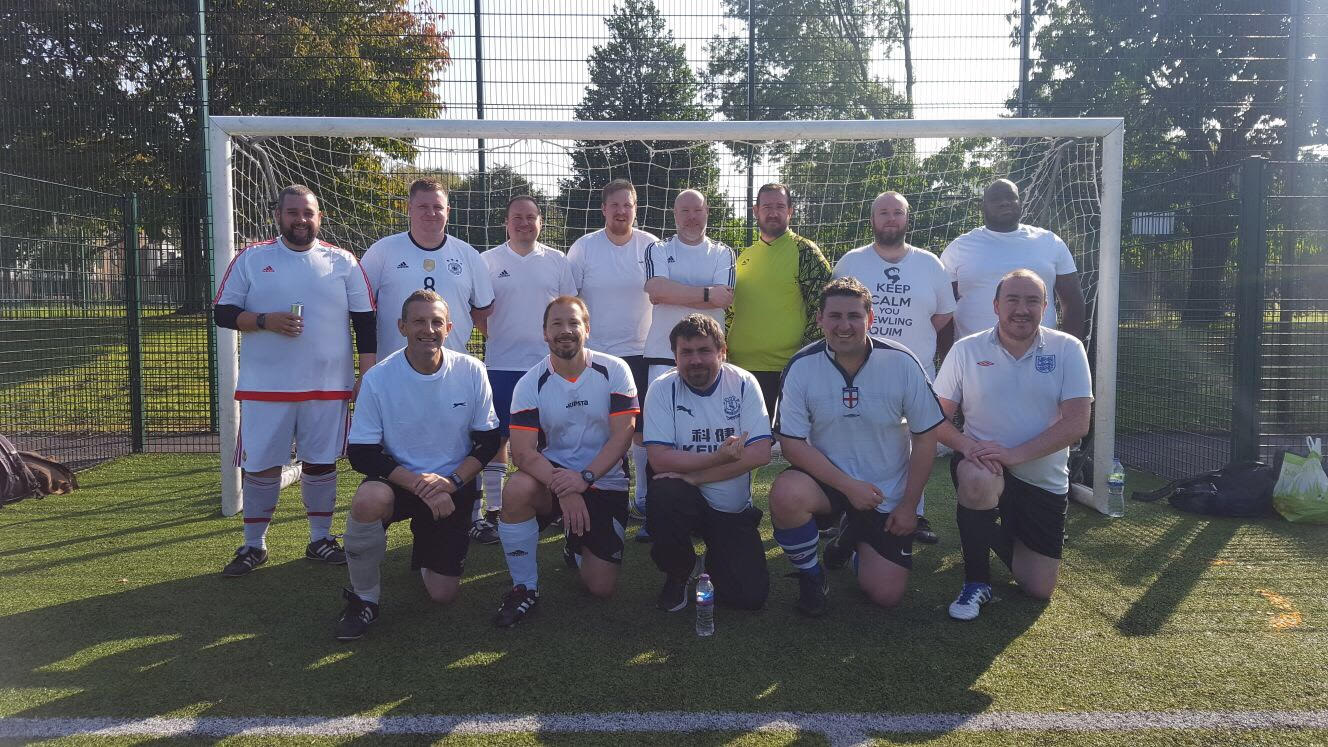 MAN v FAT Newsround 8/9/2017

Welcome to our weekly round-up of MAN v FAT news from the football leagues, the forums and beyond!

AROUND THE LEAGUES

Another week, another story of an 11 v 11 game from the MAN v FAT Football leagues! This time it's the Manchester league who have organised a friendly between themselves, something a lot of these lads possibly wouldn't have ever imagined doing when starting out on their MAN V FAT journey. The two teams (handsome beasts all, pictured below), played out a rather one sided 10 – 3 match, with the black team coming out on top. The next step for the Manchester lads is putting together a full squad and challenging over MVFF leagues. This comes off the back of similar challenges from the Hull and Bridgwater leagues – did someone mention an 11 v 11 tournament? Now there's an idea…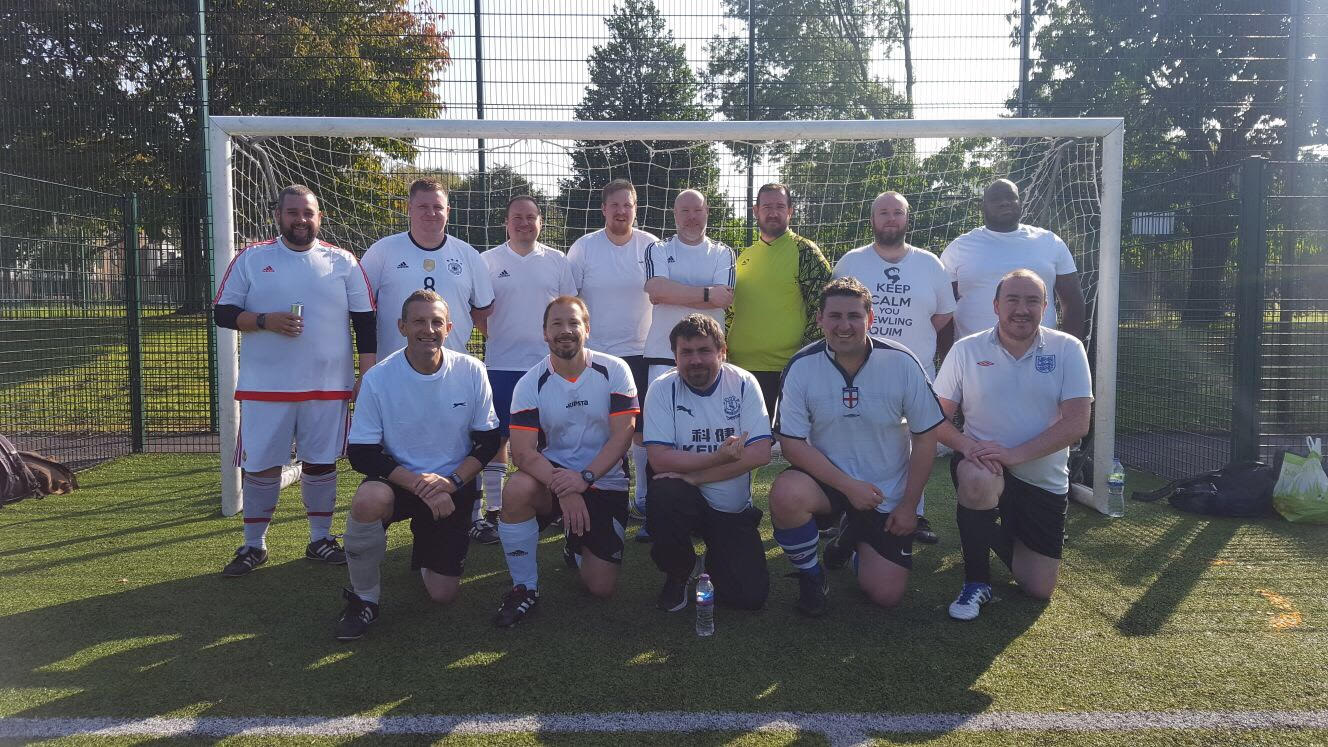 Derby haven't even got their league up and running yet, but they're still making the headlines (for the right reasons). A group of lads and Ben Gallon the leagues coach, whom have been organising regular friendly matches at a nearby 5-a-side centre in the run up to the leagues launch in the next couple of weeks, were featured by local news channel nottsTV, in a piece all about MAN V FAT Football. The online article, which you can see for yourself here, shed light on the format of MVFF leagues, their origins and the benefits of joining. It even included a brilliantly put together video of the lads in action and even some one-on-one interviews with the players themselves who spoke about what their 'why' was; the highlight of the clip however definitely came when one of the lads was asked why he got involved, with his reply being a short and sweet, "I need to lose these 'moobs' – enough said". Well we all look forward to seeing not only how his quest to 'lose the moobs' goes, but also the league itself when it starts in the coming weeks.
WHAT WE ARE EATING
Clearspring Organic Japanese Tofu
A tasty meal doesn't always have to include meats, tofu does the trick just as well. If you're looking for a healthier alternative for teatime, Clearspring Organic Japanese Tofu is a cheap but tasty supplement, perfect for keeping the taste buds entertained, whilst still keeping the calories down. Denser and richer than regular fresh tofu, this supplement is a superb source of protein, weighing in at 6.8g / 100g, great for that essential muscle-repairing period after a rigorous exercise session. Ideal for an exotic stir fry, succulent veggie burger, or a mouth-watering Thai curry, Clearspring Organic Japanese Tofu is the perfect addition for a balanced, healthy diet. Find it in Holland & Barrett for £1.89 for a 300g carton.
WHAT WE'RE READING
Sugar is more addictive than crack – wait, what?! Whilst I can't see there being a television series about notorious sugar dealers being a massive blockbuster hit, recent studies have shown that sugar and cocaine do possess similar addictive traits, with the sweet stuff (sugar not cocaine) potentially being the more addictive.
https://www.theguardian.com/lifeandstyle/2017/sep/04/is-there-such-a-thing-as-sugar-addiction
When you're not on the weight loss grind and you've given yourself a well-deserved day off, you may like to indulge in a lovely bottle of red, white or rose – and not many wines taste better than those picked from the Italian vineyards. But, due to a rapidly changing climate, coupled with one of the hottest summers on record, those exact vineyards are suffering heavily from draught, meaning enjoying a bottle from Europe's southern coasts may quickly be becoming a thing of the past. https://www.nytimes.com/2017/08/22/world/europe/barolo-italy-wine-climate-change.html?ref=dining
OVER ON THE FORUM
If you've had a drink or two (or three, or more) this summer, then it might be a good idea to give your liver a well needed rest and take on the challenge of 'dry September' – one full month without any alcohol at all – https://talk.manvfat.com/t/dry-september/25203/14
Having spotted the smartest shirt, or the coolest pair of jeans in the shop, the feeling of disappointment is overwhelming and thoughts of 'what could have been' flood your thoughts – let's be honest we've all been there, but is this a bigger problem for those who are overweight? Join the discussion here: https://talk.manvfat.com/t/clothes-the-fat-mans-nemesis/25270
Who lives in a pineapple under the sea? . . . (Kudos to you if you sang the first sentence) But, no it isn't Spongebob Squarepants, it's actually the key to sustainable weight loss. Read all the science stuff and join the conversation here: https://talk.manvfat.com/t/pineapple/25575/2
How is your September going so far? Starting to worry about Christmas already? We are…